Hanna, Nicholas – K&L Gates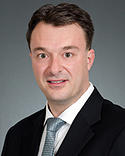 Mr. Hanna's practise focuses on equity capital markets, private equity, joint ventures, mergers and acquisitions. He represents numerous corporate clients seeking to list on the Official List and AIM on the London Stock Exchange. He also advises on structuring private equity funds and other methods of alternative finance including private placements and convertible bonds.
Additionally, for the last 19 years, Mr. Hanna has represented clients in commercial disputes with notable recognition in areas including international trade disputes, shareholder disputes, IP infringement, shipping, insolvency as well as oil and gas disputes.
Mr. Hanna acts for a broad range of industries including oil and gas, mining, financial services, defense, aviation and manufacturing. He has been working on transactions in Asia for over a decade and living in the region for almost seven years.
Mr. Hanna is a regular speaker with the London Stock Exchange at seminars and workshops on London listings and alternative means of raising capital. He is recognised as a leading lawyer in Chambers Asia Pacific 2013 and has been described as "….one of the finest AIM experts in the market".