Kim, Sun Yeop – Deloitte Anjin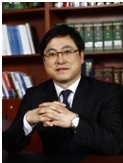 Audit partner of Deloitte Korea, responsible principally for cross-border transactions. Successfully completed K-IPO of Wanli Internationals and other Chinese companies.
Sun Yeop has over 20years experience in public accounting and has been based in Seoul Korea. He is currently responsible for US GAAP/IFRS engagements of audit and accounting advisory services with the Global IFRS & Offerings Services Group ("GIOS") and the Global Financial Service Group. He is Certified Public Accountants in Korea as well as in US (KICPA/AICPA).   He also served a two year international assignment with Deloitte's New York Financial Service Group, especially in the banking business group.