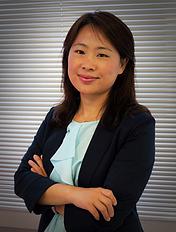 Amber heads up Centillion Consulting and has over 15 years' experience working at two Fortune 500 companies. During that time she has amassed experience in the trading of mechanical and electrical products as well as the sales and marketing of home appliances. Acting in various regional head roles in PR, Advertising and Sales and Strategy Development she was involved in the planning and execution of strategic partnerships with companies such as MIDEA, TCL Group, KONKA and Baiyun Group. In her last role she was responsible for identifying potential joint venture partners, and assisted in the setting up of over 10 such companies overseeing the design of the company structure, strategic planning, talent recruitment, distribution channels and the management of new manufacturing bases.
Throughout her career, Amber's belief is that regardless of industry, a company's size or specific department, human resources is key to the success of any organisation. She believes that the key to maximise an organisation's efficiency is to consolidate the knowledge and skills of all team members. Their talent and knowledge will only develop and shine when they are mentally healthy and working happily. Therefore, creating a safe, healthy and happy working environment is essential for every organisation.
Amber hopes to be able to share her experience of positive-thinking and motivational psychology with companies and ultimately their employees and strive to attain success, advancement and happiness at work and in life.